Brief description:
This is a women's summer print doll necklace Night dress Home Dress.Loose Version, comfortable, not choosing body shape, lazy and casual. The use of lotus leaf sleeves, contrast color lotus leaf, can modify the arm, look more feminine. Secret lace, exquisite routing, showing excellent quality.
Basic product information:

ITEM: WOMEN'S PRINTED DOLL COLLAR NIGHT GOWN, FACTORY CUSTOMIZATION
BRAND STYLE: HOME CASUAL WEAR
YELLOW COLOR
FABRIC COMPOSITION:
SHELL: 100% VISCOSE
VERSION:LOOSE
THICKNESS:MODERATE
ELASTICITY:MODERATE
SOFTNESS:SOFT
PERMEABILITY:GOOD
DISCHARGE:GOOD
SIZE: S/M/L/XL
MOQ:1000PCS
CUSTOM LABEL and LOGO
DELIVERY TIME: ITEMS IN STOCK: 25 DAYS; OEM/ODM: 30-50 DAYS AFTER SAMPLES APPROVAL.
PLACE OF ORIGIN: SUZHOU, CHINA
SUPPLY CAPACITY: 10000 PIECES/PIECES PER MONTH
PORT: SHANGHAI
Style details: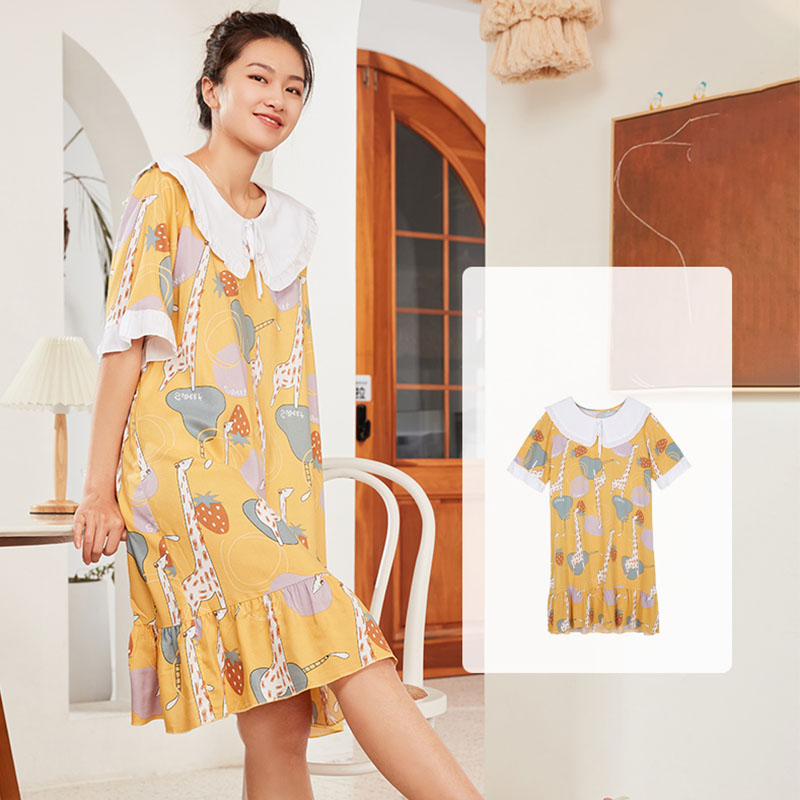 THIS IS A SUMMER PRINTED DOLL COLLAR NIGHT GOWN FOR WOMEN. LOOSE VERSION, COMFORTABLE, DO NOT CHOOSE BODY SHAPE, LAZY AND RELAXED.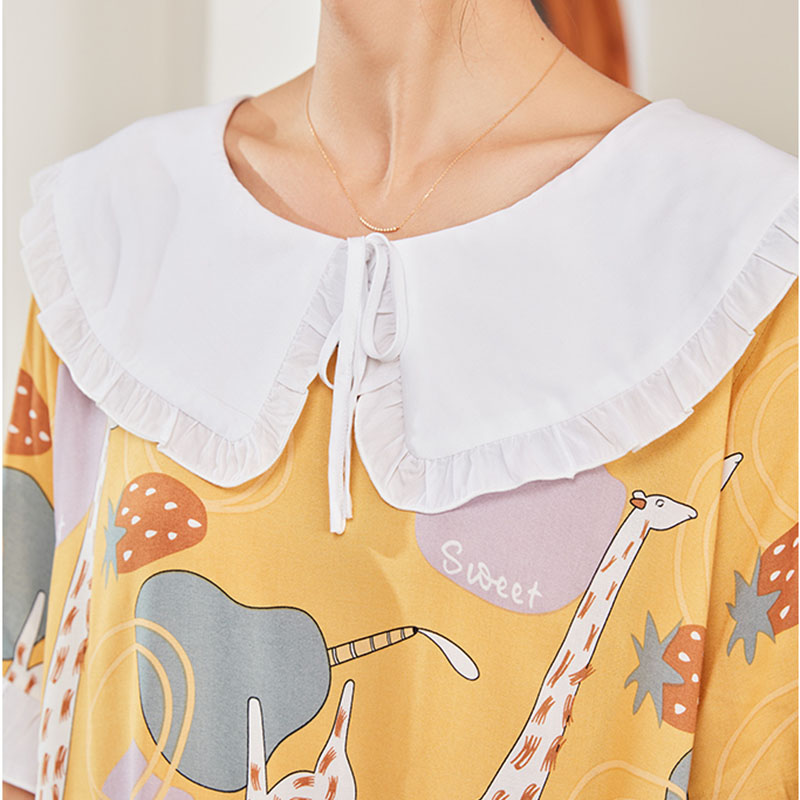 WAVY DOLL COLLAR DESIGN, ASSORTED CONTRASTING COLORS, LACE DESIGN, CUTE AND PRETTY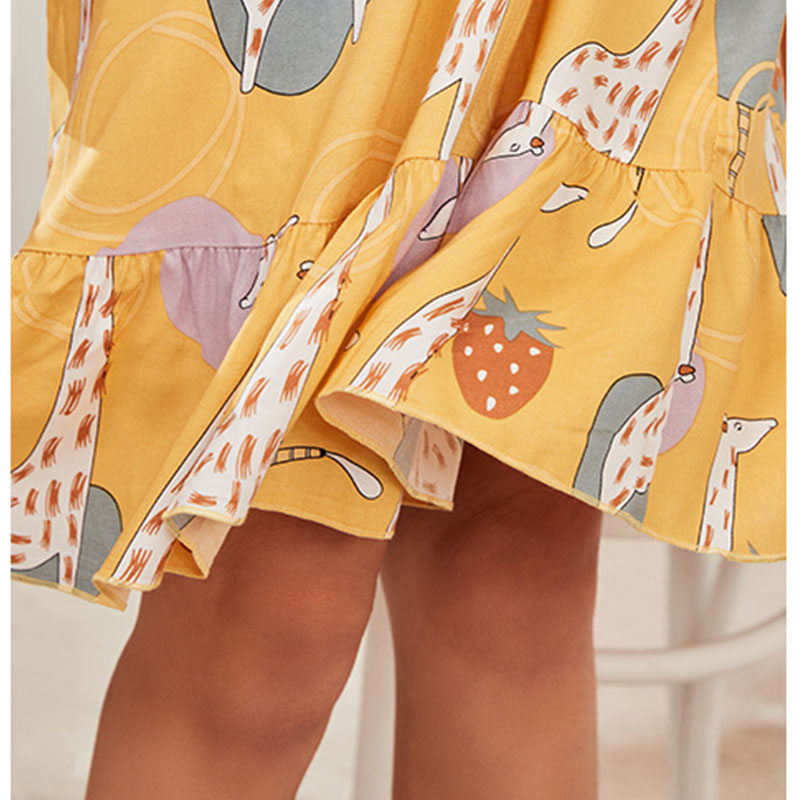 THE HEM OF THE SKIRT IS SPLICED WITH WAVES RUFFLES, WHICH IS COMFORTABLE AND ELEGANT.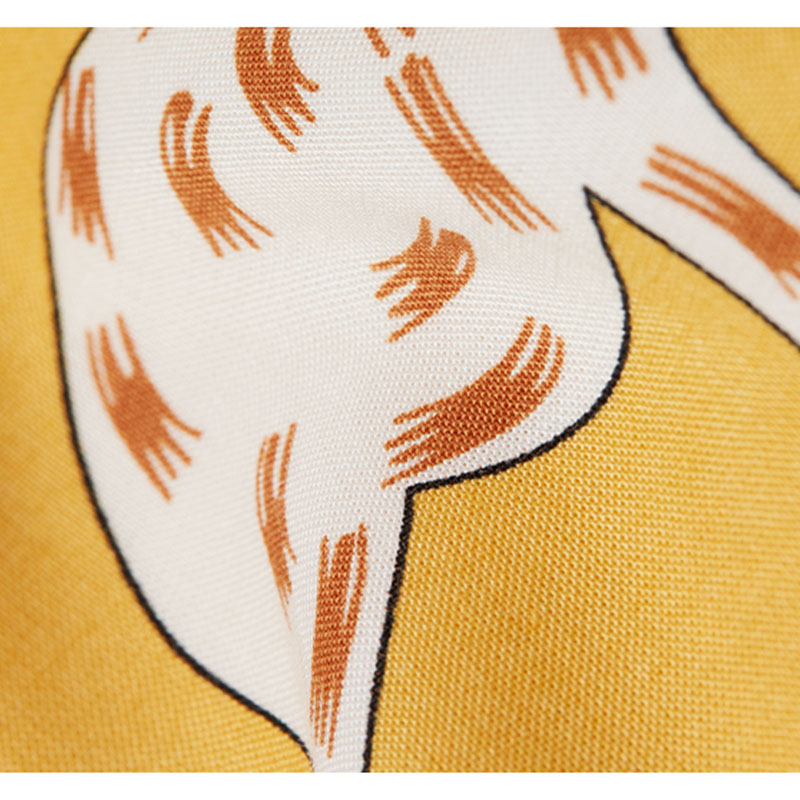 100% VISCOSE FABRIC, SOFT AND SKIN-FRIENDLY, FINE TEXTURE, GOOD COMFORT, COOL AND BREATHABLE TO WEAR, MORE COMFORTABLE AND COOLER THAN TRADITIONAL COTTON FABRIC SURFACE.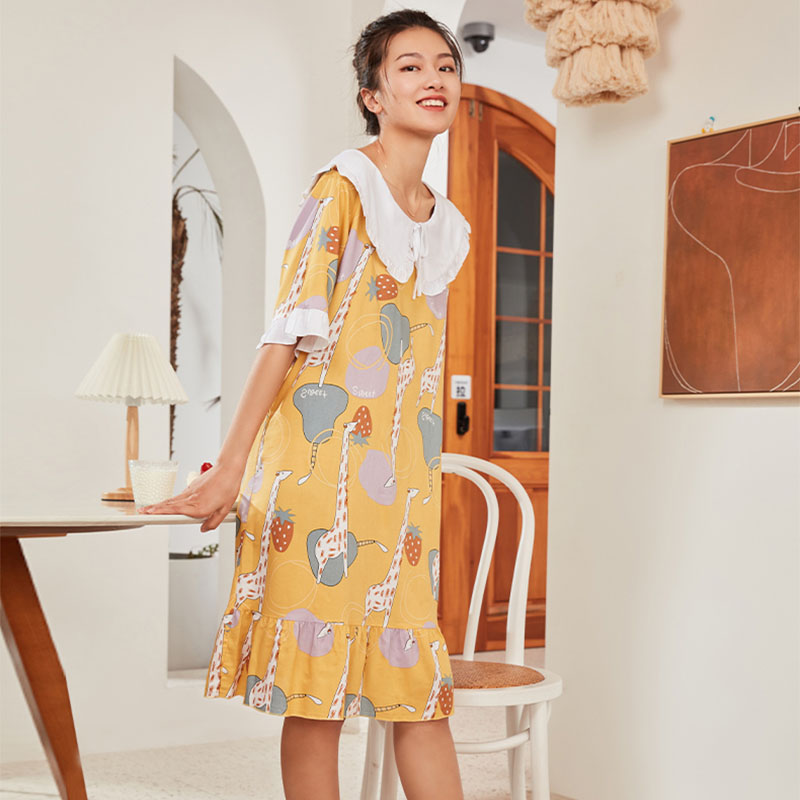 The use of lotus leaf sleeves, contrasting color lotus leaf, can modify the arm, look more feminine. Secret lace, exquisite routing, showing excellent quality. Mentionborn is a professional company in textile industry, specializing in providing textiles for different needs, such as home wear and pajamas/aviation supplies/public goods, etc. All of our clothes are specially designed to make you more confident and charming. The Mentionborn team is committed to providing the highest standards of service based on the excellent quality of all our products, in order to provide our customers with an excellent ordering experience.
Benefits
1. We can use custom logos on all products, if you have this requirement, please email us your logo picture and order quantity, then we will check the printing cost and send it to you within one business day as indicated. .
2. We can also develop new clothes based on your completely clear technical drawings, samples or photos.
3. Customizable size and color.
4. Fabric material can be changed as your need.
5. We have our own joint venture factory, which can ensure prompt delivery.
6. Provide good transportation tracking service and other after-sales service.
Media Contact
Company Name: Suzhou MENTIONBORN Industry and Trade Co., Ltd.
E-mail: Send an email
Call: 86-0512-66599115
The country: China
Website: https://www.mentionborn-cn.com/